Skip to Content
Welcome to Your Best Smile
Family Dental Associates offers comprehensive dental care for your entire family. Our experienced dentists and team are dedicated to helping you achieve and maintain a healthy smile. We invite you to explore our services using the links below and call today to make your appointment with Dr. Mark Folks and Dr. Matthew Keim in Miami, Oklahoma.
Meet the Doctors
Mark Folks, DDS & Matthew A. Keim, DDS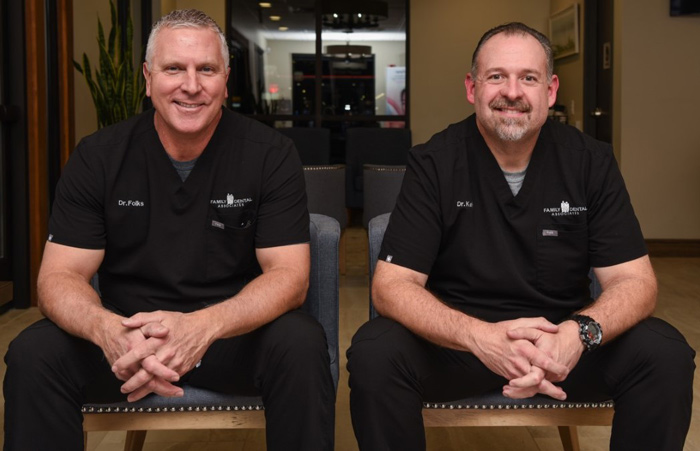 At Family Dental Associates Miami OK, our mission is to provide you with the highest quality care, education, and atmosphere, enabling you to make the best decisions for your smile long after leaving the office.
Mark Folks, DDS, has practiced dentistry in our area since 2002. Dr. Folks' renowned expertise and patient care have earned him membership in the American Dental Association, Academy of General Dentistry, American Academy of Implant Dentistry, Academy of Cosmetic Dentistry, and the Oklahoma Dental Association. Dr. Folks has advanced training in orthodontics and implant dentistry, and his goal is to improve his patients' quality of life with a beautiful, healthy smile.
Matthew Keim, DDS, began practicing dentistry in the area in 2002. Dr. Keim earned his Doctor of Dental Surgery (DDS) degree at the Oklahoma College of dentistry. He stays up to date on the newest trends and technologies in the dental industry to provide the latest and greatest dental care for his patients. A certified member of the American Dental Association, Dr. Keim's primary goal is to give his patients optimal oral health and a smile of which they feel proud.

My family and I joined what I would call our Dental/Ortho Family a few years back! I say this because they are just thatfamily. We are welcomed with a smile each time we visit, asked about our day and how we are doing. They are intentional!
Last year our family had a unique situation, and Dr. Folks and his staff went above and beyond to help us through this time. This was not something that was expected or required of them, it was their true character shining through. I could never thank them enough and will forever be grateful!
From cleanings, fillings, build ups, whitening treatments to braces and after care, we have had nothing but the best treatment. We could not be more pleased with our results and love showing off our smiles!
Thank you, Family Dental, for serving our community with such a wonderful environment. Changing smiles and warming heats are two gifts that I admire about your office!
Before I got my braces, my teeth were so crooked! I was insecure about my teeth and didn't want to smile much. Everyone at Family Dental Associates Miami OK has been so helpful and fun. I've always enjoyed my appointments. They make me feel special every time I go in. Now that I have my braces off, I feel so much more confident about my teeth, and I get compliments all the time about my smile! I never thought my teeth would be this straight. I'm so thankful!
Caleb (age 7) was treated like royalty and thoroughly enjoyed his dental visit with Dr. Folks. Staff was incredible. He also loved being able to watch his big brother and learn all about the work a dental hygienist does. I understand why they have their name….You feel like family at Family Dental.
I had the best experience i have ever had at any dentist I've been too at family dental! All of the staff was amazing and very caring about how i was feeling and trying to make me comfortable with everyone in the building. The staff and the doctors were amazing. Would recommend to anyone and everyone.
You will not find a friendlier dentist office. Everyone there is so friendly and helpful. They make you feel like you are their main priority. They listen and know what they are doing. They are also great with children. Mika made my 5 year old feel so comfortable. She absolutely loves the dentist because of everyone at Family Dental.
I absolutely despise going to the dentist but as soon as I walked in the doors I was greeted with the most genuine smiles. They truly do go above and beyond to make you comfortable, they where absolutely excited to have me as a new client and treated me as if I was family. I have never been more excited to go back to a dentist.
At Family Dental Associates they truly do treat you just like family. They have always gone above and beyond all expectations. Dr Folks is wonderful and treats his patients with love and care. I appreciate this dental office more than they know! I highly recommend Family Dental to anyone in search of a new dentist office.
The staff here @ Family Dental are amazing. They keep you informed, most helpful with booking around hectic schedules, and they are very polite and friendly. Would definitely recommend to everyone!!
Absolutely love Dr. Folks and the hygienists, as well as all the office staff. I was absolutely terrified to go to the dentist due to a not great one as a kid growing up. Had not been in 20 years. I had a dental emergency went here and since have had a lot of work plus 2 cleanings a year and I love to go now!! Wouldn't go anywhere else.
The dental assistant was a very nice lady to talk to while she worked on my teeth. She did a great job too! Also the ladies behind the desk had an amazing since of humor!
My thanks to Miami Dental Associates for another wonderful experience!! As always extremely efficient, always friendly, totally Covid conscious!! My goody bag of floss, toothpaste, and a toothbrush saves me money as well.
Family Dental Associates is the best Dental Clinic I have ever been in. The office staff treats you so well, not only do they listen to what you have to say but so do the Doctor's, it is truly a caring and professional environment for not only the young but also for the young at heart, from start to finish.
Your Comfort Is Our Top Priority
We believe patient comfort is critical to an excellent dental experience. We accommodate our patients with a warm, welcoming environment where they feel cared for and secure every step of the way. From your first appointment to when you leave our office, our friendly team will remain sensitive to your needs, ensuring you have everything you need for a satisfying experience. We'll provide you and your family with the dental care you need in the most inviting atmosphere.